When I first arrived in New York City 2 years ago, I didn't know ANYONE.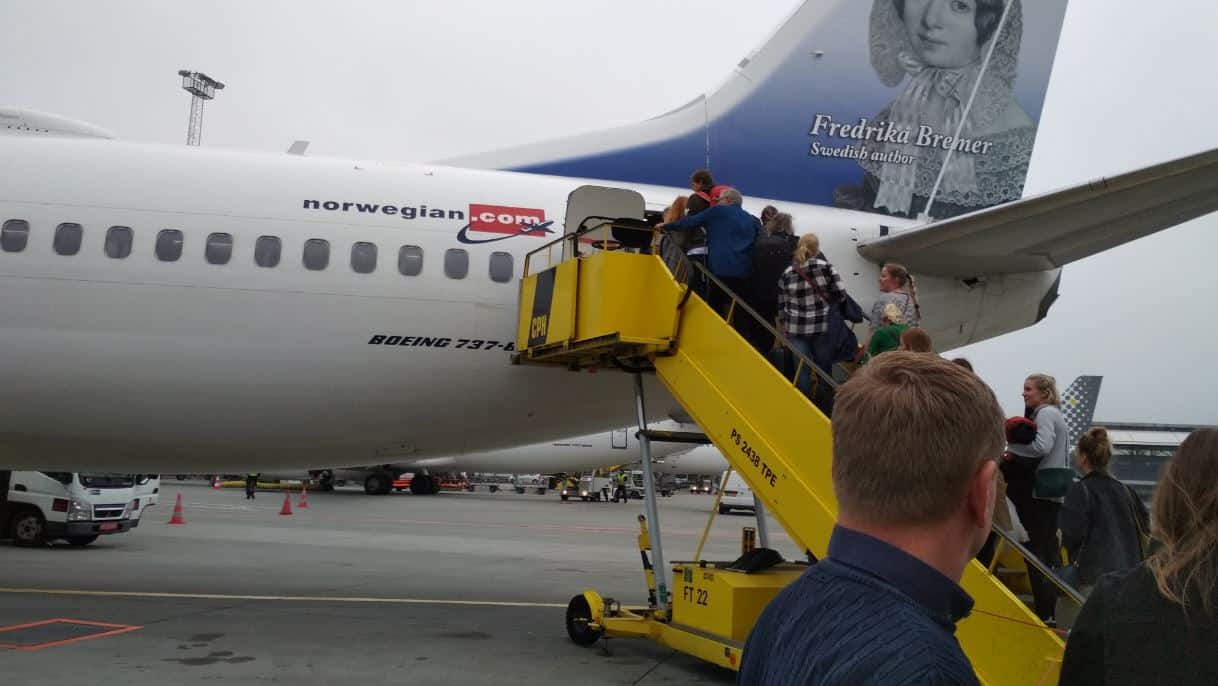 Boarding the plane to NYC with my one-way ticket from Sweden.
Today, I'm blessed with a family of friends that I can always do something fun with.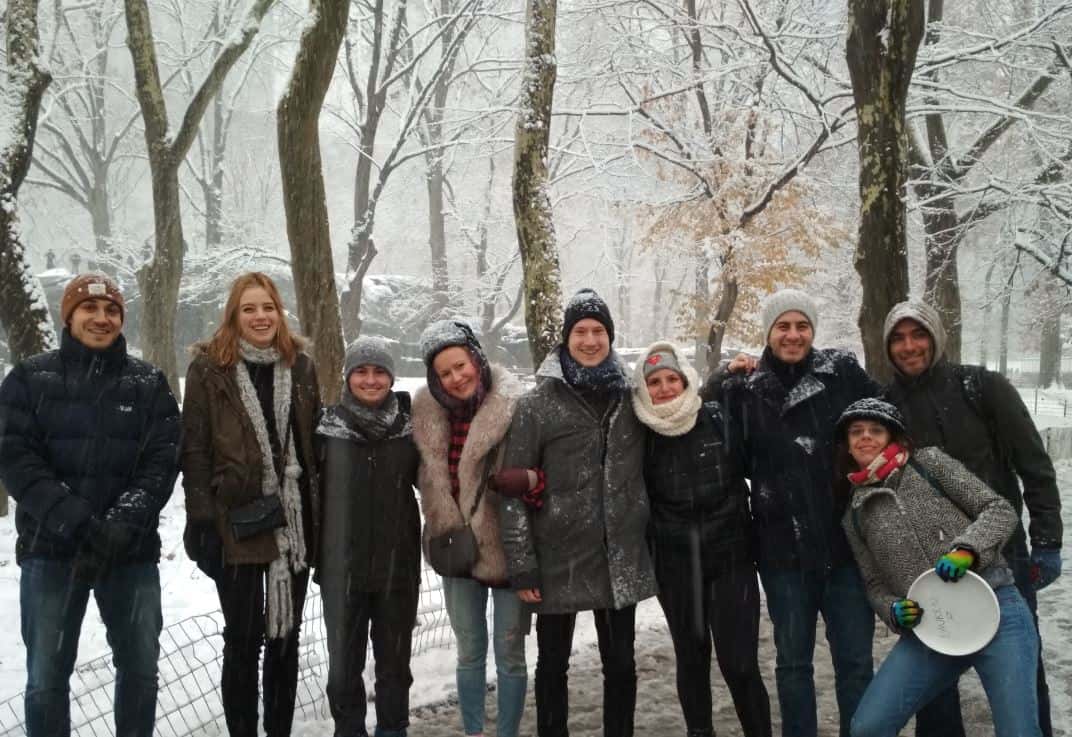 Me with some of my friends in Central Park
Here's how to make friends in NYC.
1. Choose a co-living rather than renting an apartment
When I moved to NYC I decided to try a co-living, meaning living together with a group of others. My first house here was a 3 story brownstone in Brooklyn. I shared the space with 15 other people. Artists, entrepreneurs, tech guys. There was a little bit of everything here.
You can choose to have your own room or share a bed. Shared rooms are around $800 and single rooms from $1 200 all the way up to $2 000.
This was a great way to meet a ton of people, and quickly. In fact, I'm now moving to a new apartment together with two guys I lived together within the co-living.
Here's an overview of co-livings in NYC and here's an overview with map and cost.
2. Say yes to as many invitations as you can
In the city, two major groups to look to for connection are your roommates – who have lives and friends of their own – and your co-workers. If you get invited to go out by roommates or co-workers, DO IT! Friendships are born when we share experiences with each other (as tiring as that is for introverts.)
Make a deal with yourself to accept 2 out of 3 social invitations. And don't back out last minute:
As tempting as it is to stay home and watch The Office for the 700th time, canceling plans makes you seem flakey. Besides, you don't have to stay out the entire time. Showing up is the most important part.
3. Go to a co-working venue
New York City is full of people who work on their own. I've been to a few mingles at WeWork, but I don't have a full-time pass there as we have a working floor in my co-living. WeWork is pricey, but there are many alternatives.
4. Take the initiative
So, your roommates or co-workers don't go out together socially. What if you made the first move? Most people are flattered when we invite them out, showing interest in meeting up is a social compliment.
Don't be afraid to suggest stopping by the bar on Thursday after work, or checking out that new cafe down the block from your apartment.
You don't have to be big or flashy with this either – by no means do you need to invite every co-worker at the office to karaoke night. Maybe there are 2 or 3 you feel you could connect comfortably with. Suggest grabbing lunch together, and go from there!
For your convenience, here are my favorite Cafes to meet with friends for every major neighborhood in NYC.
Mid Manhattan
http://eastamish.com/
Union Square
https://www.newsbarny.com/
Downtown Manhattan
http://takahachibakery.com/
Lower East Side
https://blackcatles.com/
Dumbo
https://www.brooklynroasting.com/
Bushwick
Little skips
Bed-Stuy
Manny's
5. Search Eventbrite and Meetup
The secrets for how to make friends in NYC? Finding like-minded people! Whatever you're interested in, there's a group for that. Even more likely, there are people on the internet for that!
My favorite online platform for connecting with groups in NYC is Eventbrite. You should also check out Meetup. Both these sites are great because you don't have to make the plans, just join in. Many of the activities listed are free, and there are so many categories. From book clubs to gardening groups, you can find a group of people who match your interests.
Here's my experience: The more of a niche interest group you go to, the more likely you are to find like-minded friends there. Why? Because people who share your interests are often easier to talk and bond with.
Also, search on Facebook for "[interest] NYC". (Like, "photography NYC" or "philosophy NYC"). You'll find a LOT of groups that you won't find on Meetup or Eventbrite.
What I did was contacting several people in online business groups in NYC. I wrote something like:
"Hello, I run an online business and I'm new in town. (And then I shared a little bit about my background) I'd love to meet up with like-minded and talk business. What kind of business are you running?"
And if they replied, I wrote
"Would you want to meet up for a coffee at some point?"
I did this almost a year ago, and I still keep in touch with some people from this outreach. However, be prepared to send this message to at least 50 people to get 1-2 opportunities to meet up.
There's also this great subreddit specifically for NYC meetups.
6. Keep in touch around a mutual interest
Once you have initially hung out with co-workers, or roommates, think about who you had the most in common with. Did one of your roommate's friends mention they like hiking? If that's something you enjoy, suggest going together.
What are you interested in? It's been said birds of a feather flock together, and cliche as it is, it's true.
I connected with two friends because we all love to write. I see them every Wednesday now for our self-made writer's group. It's really just the 3 of us sipping and spilling tea in a cafe. But that originally shared interest brought us together.
Are you a movie buff? A museum junky? Brunch enthusiast? Wherever your interests lie, this city is so big that there are plenty of people for you to connect with.
NYC has the best brunch. Ever. If you like to brunch, check out this extensive list of spots. Pick a place and invite someone to come with.
NYC houses an amazing culture. If you're into museums, you don't need to break the bank. Check out this list of free days!
Timeout also has a great list of things to do in New York-based on different interests.
7. Do activities together with new acquaintances
When the weather is nice a great place to make acquaintances and new friends is Smorgasbord, in Williamsburg. It's a food festival and happens right on the water. Check out details and location here
Another spot that's always a fun time is Fat Cat. Located in the Village, it's got a lot going on. Live Jazz music, pool, and cheap beer. Check out the details here.
My favorite place to see movies in the city is in Brooklyn at the Alamo Drafthouse. Enjoy a beer, or non-alcoholic milkshake while you watch the movie, but don't eat at Alamo because the food is overpriced. Instead, head downstairs to Dekalb Market after the movie is done and grab some cheap eats with your friends. Discuss the movie, and let the conversation unfold from there.
8. Use apps for making friends
Maybe you live alone, or you work for yourself. If that's the case, socialization is even more important. Get out of your comfort zone and try something totally new!
One way to make friends here is to turn to the internet. Steer clear of Craigslist, because you'll find a lot of shady folks there. Instead, try Bumble BFF. It's been above my expectations. Turns out there are a lot of great non-weird people there who want to make new connections just like you.
This is also a great platform for introverts to connect with someone without draining all of their energy.
Here are my recommendations:
This isn't Tinder. Don't try to look cool or seductive. Choose a photo where you look friendly and proper.
Write down in your profile what interests you. The profile is 100 times more important than on Tinder. That helps people know if you have things in common.
Two of my best friends today are from Bumble BFF, and we still meet up every week for dinner or coffee. Through them, I've also made several new friends. Here is our review of other apps to make friends online.
9. Volunteer at The Bowery Mission
A great way to bond with your fellow New Yorkers is to find a common cause. The Bowery Mission has over 1,700 volunteers who donate their time to mentor youth, serve meals, teach new skills to the underemployed, or work at the Clothing Room at the Bowery Campus. Loads of young professionals in their 20's and 30's help out at this downtown Manhattan location.
10. Take a walking tour of Central Park
Central Park Walking Tours offers a 2-hour guided stroll through sweet gardens, bridges, and fountains. They also take you past iconic movie locations like Tavern on the Green (Wall Street & Ghostbusters), The Bandshell (Breakfast at Tiffany's & Kramer Vs. Kramer) and Wollman Rink (Love Story & Serendipity). It will give you time to chat with the guides and your fellow Tourees as you take in the best of nature and the city for $24.
11. Sign up at the Brooklyn Brainery
The Brooklyn Brainery was founded to make learning anything accessible and affordable. There are two locations, one at 190 Underhill Avenue in Prospect Heights, the other at 1110 8th Ave, Park Slope in Brooklyn. Courses run the gamut from creating a terrarium, woodburning techniques, mindfulness training to making Kimchi. This is a world-class way to feed your inner mind and make friends in a cool, stimulating environment.
12. Take an improv class
Improv takes us out of our comfort zone (cue – terror). It puts EVERYONE in a brand new situation, over and over again. The key to improv is always responding to your improv partner with these two words, "Yes, and….". No matter what they say to you in their improv speech, your job is to agree and take it from there.
At the Magnet Training Center in midtown Manhattan, there are drop-in Improv classes for $10 on Saturday afternoons. If you want to commit to more than one day, try improv classes around the city at these Timeout Courses.
13. Learn, play and compete at Chelsea Piers
Chelsea Piers is the place to meet other sports lovers who want to play over 25 different sports, join a league, or take advantage of the incredible fitness club. There are tonnes of classes to choose from or simply drop-in and rock-climb, do parkour or play hockey or basketball.
14. Indulge your inner-nerd at The Secret Science Club
Every city on the planet should have this club. It's genius. The Secret Science Club is located at the Bell House in Brooklyn. It has a free monthly lecture series where you can learn about Black Holes and Neuroscience with 300 other self-proclaimed nerds who stick around to chat at the Q&As afterward. Great for finding other people with like-minded interests and talking about the ideas that keep us up at night.
15. Improve your social skills to bond faster
Here are some of my most popular articles that are especially valuable for someone who's new in town.