Feeling uncomfortable around others, especially new people or in public, can leave you feeling lonely. You might not want to spend time with people because of how you feel. You may also feel like you're the only person who feels this way. In fact, many people feel uncomfortable around others. I know I did.
I felt awkward around most strangers, and especially if it was someone that I liked.
Why do I feel uncomfortable around people?
You might feel uncomfortable around someone because you have feelings for them, or because it's a toxic or intimidating person. Discomfort can also be a sign of underlying social anxiety or lack of social skills. For example, not knowing what to say can make you worry about awkward silence.
Here's how to stop feeling uncomfortable around people:
1. Remind yourself of your good experiences
Does this sound familiar?
"People will judge me"
"People will think I'm weird"
"People won't like me"
This is your sense of anxiety talking. Remember, just because your mind says something, doesn't mean that it's true.
You may have had difficult social experiences in the past that make it difficult for you to relax now. This means that being around people can make you nervous. Your brain likes to generalize, even after just one or two experiences.
To stop being uncomfortable around people it helps to know that your mind can be wrong.[1]
I'm sure that if you give it some thought, you can think about several occasions where people liked you, appreciated you, and accepted you.
The next time your mind generates scenes about people judging you or disliking you or laughing at you, consciously think of those times.
We're not trying to paint a fantasy hunky-dory picture. We're trying to be realistic, and we do that by not letting your mind try to paint a worst-case scenario.
It can be difficult to accept these more realistic scenes. Rather than trying to force yourself to accept the more realistic scenarios, start by accepting that they might be possible. Once you can regularly accept that things might turn out well, you can move towards accepting that they probably will.
2. Focus on the topic of the conversation
Whenever I had to start talking to someone, especially new people, I got nervous and ended up stuck in my own head. I had thoughts like…
"Does he/she think I'm boring?"
"Does he/she dislike what I just said?"
"Did I say something stupid?"
"What should I say when he/she stops talking?"
When you have those thoughts rushing through your head, it's IMPOSSIBLE to come up with anything to say.
Practice forcing your mind over to the topic of the conversation.[2]
Here's an example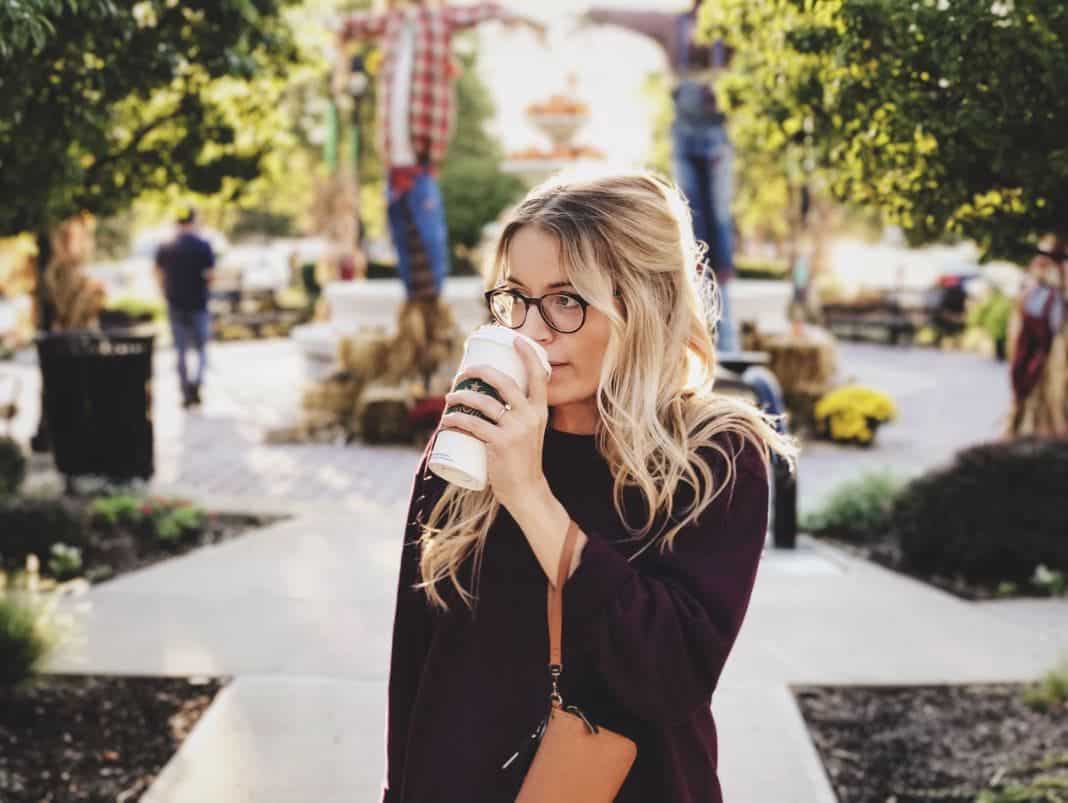 Let's say that you talk to this person. She tells you "I just came home from a trip to Berlin with some friends so I'm a bit jet-lagged"
How would you respond?
A few years ago, I would have been in full panic mode:
"Oh, she's traveling the world with her friends, she's much cooler than I am. She'll wonder what I've done and then I seem boring in comparison" and on and on.
Instead, FOCUS ON THE TOPIC. What are some questions you can come up with if you focus on what she just told you?
Here's what I come up with:
"What did she do in Berlin?"
"How was her flight?"
"What does she think about Berlin?"
"How many friends was she there with?"
"Why did they decide to go?"
It's not about asking all these questions, but you can use ANY of these questions to keep the conversation moving forward.
Whenever you start worrying about what to say, remember this: FOCUS ON THE TOPIC. It'll make you more comfortable, and help you come up with things to say.
Read more: How to make conversations more interesting.
This gets easier with time. Here's a video where I help you practice conversation focus:
3. Refer back to something you talked about
Feeling a conversation run dry makes most people feel uncomfortable. My friend taught me a powerful trick for always knowing what to say when this happens.
He refers back to something they've talked about before.
So when a topic ends like…
"So that's why I decided to go with the blue tiles instead of the gray ones."
"Ok, cool…"
He refers back to something you talked before, like this:
"Did you get time to study yesterday?"
"How was last weekend?"
"What was it like in Connecticut?"
Lesson learned
Refer back to what you've talked about earlier in the conversation, or even the last time you met.
Think back to a previous conversation you had with a friend. What's something you can refer back to the next time you meet? If this is a regular problem, having a planned question or two can help you to relax in the conversation and not worry. For example, I was with a friend yesterday who was looking for a new apartment. So, the next time we meet and the conversation runs dry, I could simply ask "By the way, how's the apartment hunt going?".
Advertisement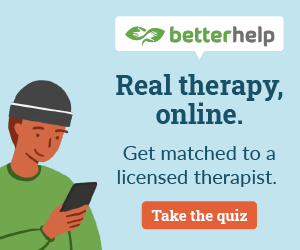 Read more here on how to start a conversation with someone.
4. Ask yourself if a confident person would care
In my experience, confident and socially savvy people say as many "weird" things as anyone. It's just that confident people's "worry-o-meter" is less sensitive. They simply don't worry about it.[3]
If an awkward moment for a nervous person feels like the end of the world, the confident person just doesn't care.
Nervous people think that everything they do needs to be perfect.
Confident people know that we don't need to be perfect to be liked and accepted.
(In fact, saying the wrong thing from time to time makes us human and more relatable. No one likes Mr. or Ms. Perfect.)
The next time you beat yourself up over something you said, ask yourself this:
"What would a confident person think if they said what I just said? Would it be a big deal for them? If not, it's probably not a big deal for me either".
Read more here: How to be less socially awkward.
5. Dare to say stupid things to learn that nothing bad happens
In behavioral therapy, people who tend to overthink social situations are instructed to make conversation with their therapist and constantly try to NOT censor themselves. Sometimes they say things that feel like the end of the world to them.
But after hours of conversation where they force themselves to not filter, they finally start feeling more comfortable.[4]
The reason is that their brain slowly "understands" that it's OKAY to say stupid things every once in a while because nothing bad happens. (Everyone does it, but only anxious people worry about it.)[3]
You can do this in real life conversations:
Practice filtering yourself less, even if it makes you say MORE stupid things at first. That's an important exercise to understand that the world doesn't end, and it allows you to express yourself freely.
It's worth it to say stupid or weird things every once in a while in return for being able to express yourself freely.
Read more: How to socialize with anyone.
6. Remind yourself that people don't have to like you
If you sometimes feel judged, this tip is for you.
Let's say that your worst nightmare is true and the people you're about to meet you will judge you and won't like you. Do they have to like you and approve of you? Would the worst-case scenario even be that bad?
It's easy to take it for granted that we need others' approval. But in reality, we'll do just fine even if some don't approve of us.
Realizing this can take some pressure off meeting new people.
This isn't about alienating people. It's simply a countermeasure against our brain's irrational fear of being judged.
Instead of focusing on not doing something that can make people judge you, remind yourself that it's OK even if people DO judge you.
Remind yourself that you don't need anyone's approval. You can do your own thing.
Here's the irony: When we stop searching for people's approval we become more confident and relaxed. That makes us MORE likable.
7. See rejection as something good; a proof that you've tried
Most of my life I've been scared of being rejected, whether it was by someone I was attracted to or just asking an acquaintance if they wanted to grab a coffee someday.
In reality, to get the most out of life, we have to get rejected at times. If we never get rejected, it's because we never take risks. Everyone who dares to take a risk gets rejected at times.
See rejection as proof of your bravery and your determination to make the most out of life. When I did, something changed in me:
When someone turned me down, I knew that I'd at least tried. The alternative is worse: NOT trying, letting fear hold you back, and never knowing what could have happened if you tried.
Lesson learned
Try not to see rejection as a failure. See it as evidence that you've taken a risk and made the most out of your life.
Example:
Maybe you want to meet up with an acquaintance at work or a new classmate in school, but you're worried that they might decline your offer.
Make it a habit to still take the initiative and ask.
If they say yes, great!
If they say no, you can feel great knowing that you make decisions that help you make the most out of life.
You never have to wonder "What if I'd asked..?".
8. Act normal even if you blush, sweat, or shake
This graphic shows how blushing, shaking, sweating or other "bodily giveaways" snowballs the nervousness.
Let's think about the last time you met someone else who was blushing, sweating, shaking, etc. What was your reaction? You might not have even noticed. Even if you did, you probably care much less than when you yourself do any of it. You probably assumed that it was due to some external factor. Most of us are too aware of our own insecurities to believe that we might make other people nervous.
Here's how I've reacted to people who've been blushing, sweating, or shaking.
Blushing: It's hard to tell if it's just because the person is hot, so I just don't pay attention to it. When I was in school, a guy was constantly red in his face. He said he was born that way and didn't seem to care about it, so neither did we.
If someone who blushes doesn't seem to care, I don't care. If they don't act very obviously nervous together with the blushing, it's almost unnoticeable.
Only if the person goes quiet and looks down the ground together with the blushing do I consciously pay attention and think: oh, they must be uncomfortable!
Sweating: When people sweat I assume it's because they are warm. It might also be due to a health condition, such as hyperhidrosis.
Shaking voice: I know a couple of people who have a shaky voice, but honestly, I don't think it's because they are nervous. It's just how their voice is. By the time people have met you enough times to recognize that your voice isn't normally shaky, you will probably have learned to relax around them.
Shaking body: The thing about shaking is that you don't know if it's because of nervousness or because someone's just naturally shaking. I was on a date with a girl the other day and I noticed that her hand was shaking a little bit when she was about to choose tea, but I still don't know if it was because of nervousness. More importantly, it didn't matter.
LESSON LEARNED: If you talk like normal despite blushing, sweating, shaking, etc, people will have NO CLUE if you do it because you're uncomfortable or for any other reason.
9. Anxiety is easier to handle if you accept it instead of pushing it away
As soon as I had to walk up to a group of people or talk to someone new, I noticed how uncomfortable I got. My body tensed up in all sorts of ways. I tried to fight that anxious feeling and come up with a way to make it stop.
Don't do what I did.
If you try to push the anxiety away, you'll soon realize that it doesn't work. As a result, you start obsessing about it and become MORE uncomfortable.[5]
Instead, accept that you're feeling uncomfortable. Know that all people feel uncomfortable from time to time. It's a perfectly normal response to new situations.
When you accept your nervousness, you stop obsessing about it. Ironically – this makes you more comfortable.[6] A therapist can help you learn the skills needed to practice self-acceptance.
We recommend BetterHelp for online therapy, since they offer unlimited messaging and a weekly session, and are cheaper than going to a therapist's office.
Their plans start at $64 per week. If you use this link, you get 20% off your first month at BetterHelp + a $50 coupon valid for any SocialSelf course: Click here to learn more about BetterHelp.
(To receive your $50 SocialSelf coupon, sign up with our link. Then, email BetterHelp's order confirmation to us to receive your personal code. You can use this code for any of our courses.)
10. Remember that people can't see how uncomfortable you are
It feels like people can see how nervous we are, but they can't:
In one experiment, people were asked to give a speech.
The speakers were asked to grade how nervous they thought they appeared.
The audience was also asked to grade how nervous the speakers appeared.
The speakers consistently thought they appeared more nervous than they really did. [7]
Scientists call this the illusion of transparency: We believe that people can see how we feel when in reality, they can't.[8]
The scientists decided to take it one step further:
For some of the presenters, they told them about the illusion of transparency before the speech.
Here's what they said:
"Many people […] believe they will appear nervous to those who are watching.
[…] Research has found that audiences can't pick up on your anxiety as well as you might expect. Psychologists have documented what is called an "Illusion of Transparency."
Those speaking feel that their nervousness is transparent, but in reality, their feelings are not so apparent to observers."
That group was SIGNIFICANTLY more comfortable than the group who hadn't heard about The Illusion of Transparency.
Just knowing about the Illusion of Transparency makes us more comfortable.
Lesson learned
Whenever you feel uncomfortable, remind yourself of the Illusion of Transparency: It FEELS like people can see how nervous we are, but they can't.
11. Know that you stand out less than you think
In one study, students were instructed to wear a T-shirt with a celebrity on it. They were asked how many of their classmates had noticed what celebrity they were wearing on the T-shirt.[9]
These were the results: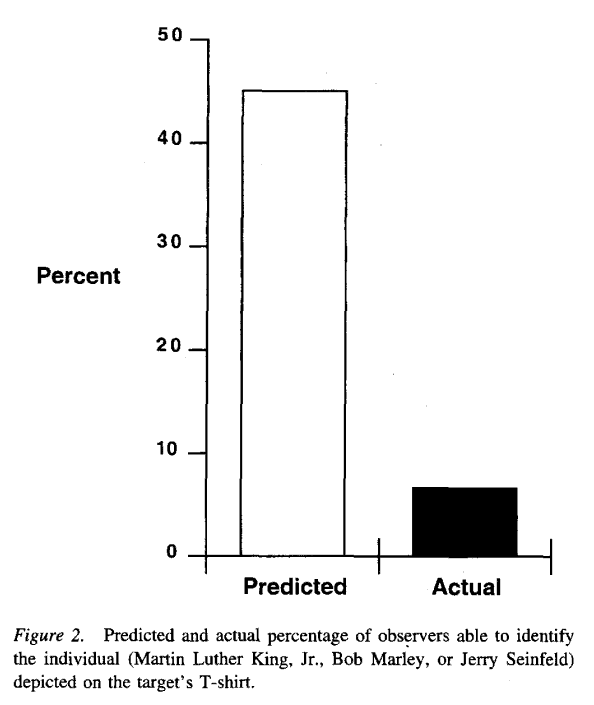 Lesson learned
We overestimate how much we stand out in a group. In reality, people pay less attention to us than we think.
12. Take ownership of your flaws
For years, I worried about my looks. I thought my nose was too big and that I would never get a girlfriend because of it. At some point in life, I realized that I had to learn to own everything about myself, especially the things I didn't like.
Even if there are things about yourself that aren't perfect, they are still a part of who you are.
Confident people aren't perfect. They have learned to embrace their flaws.
This is NOT about being a prick and saying "I don't need to change because people should like me for who I am".
As humans, we should strive to be better. That's how we grow. But while we work toward being a better version of ourselves, we should own who we are in each given moment.[10]
Example:
Back in the day, I tried to angle my head toward people so that they wouldn't see me in profile, because I then thought that they would judge me for my big nose.
When I decided to own my looks, I consciously decided to stop trying to hide my flaws. That (obviously) made me freer in interacting with others.
Ironically, this new freedom naturally made me more attractive as a person.
13. Stay a bit longer in uncomfortable situations
The natural reaction to uncomfortable situations is to get out of them as soon as possible. But here's the problem with doing that:
When we "escape" an uncomfortable situation, our brain believes that everything went well BECAUSE we were able to get away. In other words, the brain never learns that those situations are nothing to be afraid of.
We want to teach our brain the opposite. Studies show that if we stay longer in uncomfortable situations until our nervousness has dropped from its peak, THAT'S when we over time build our confidence![11]
Lesson learned
Whenever you feel uncomfortable, remind yourself that you're doing something good:
If you stay in an uncomfortable situation until your nervousness has dropped from its worst, you're slowly rewiring your brain.
Rather than avoiding uncomfortable situations, practice staying longer in them. After a while, your brain will realize: "Wait a minute, nothing terrible ever happens. I don't have to pump stress hormones anymore".
This is confidence-building in the making.
Overcoming particularly uncomfortable situations
The tips above are able to help you adapt and feel less uncomfortable around most people. Over the years, I've found that many of my clients feel especially uncomfortable in a few specific situations. Here are the tips I've found that help with each of those situations.
"I am uncomfortable around people unless I drink"
Alcohol can sometimes seem like an elixir of social skills in a glass. After drinking, you feel more confident, more charming and you have less anxiety. Unfortunately, there are some fairly heavy penalties to using alcohol to help with your social discomfort.
Drinking to help with social nerves
Is bad for your health
Can make you more uncomfortable when you have to socialize without drinking
Can lead you to do or say embarrassing things
Makes it difficult to learn new social skills
Makes it difficult for people to get to know you
The best tips for helping you to feel comfortable socializing without alcohol depend on the reasons you have for wanting to drink. For example…
"I drink during social events because I'm worried I'll make a mistake"
Most people who feel the need to drink to relax in social situations feel a lot of pressure not to make mistakes. The trouble is that making mistakes is a huge part of how we learn. We learn what we could do better next time and realize that we are often the only ones who notice our mistakes. If you make a mistake, try to treat it lightly. Socially savvy people acknowledge mistakes and move on, but this takes practice.
"I think other people will judge me if I don't drink"
Try drinking a non-alcoholic version of the same drink, for example, orange juice instead of vodka and orange. Alternatively, try to go to social events that don't involve alcohol, such as an art class.
"I can't think of things to say without drinking"
Concentrate on asking questions. Questions show that you are listening to the other person and interested in what they have to say. Read more in our article on how to know what to say.
"I lack confidence around other people until I've had a drink"
Building confidence is a big task, but it's important to recognize that the confidence boost you get from drinking is an illusion. Try to limit your drinking in social situations while you do the hard work of building your confidence. Here are our tips on how to be more confident.
Feeling uncomfortable around specific people
Sometimes you only feel uncomfortable around specific people. This could be due to a mismatch of personalities, a previous misunderstanding, or that you feel intimidated, or even genuinely unsafe around them.
It's important to remember that you won't get on well with everyone. People you feel uncomfortable around usually fall into one of two categories.
Feeling uncomfortable when you dislike someone
Sometimes, you will feel uneasy around someone because they intimidate you or there is some dislike between you. Understanding someone else's viewpoint can often make them more likable and less intimidating.[12] If you want to feel more comfortable around someone, try to learn more about them and start to understand them better. Ask them questions about themselves and try to listen with an open mind.
Feeling uncomfortable around toxic people
These people might bully or belittle others, make cruel jokes, and often target just one or two members of a group.
Feeling uncomfortable around these people is actually a good thing. Your best option is usually to avoid these people entirely. If your social group tolerates someone who behaves in this way, consider whether they are genuine friends. If they are, raise your concerns with a trusted friend. You may find that they have been thinking the same thing. If they're not, you might need to start building a new social circle.
How to tell the difference
It can be difficult to distinguish between people you dislike and toxic people. You may find it easier to assess risks when thinking about others, rather than yourself. Consider how you would feel about that person spending time with someone you think of as vulnerable. If this makes you feel worried, you probably don't feel safe around them yourself.
"I feel uncomfortable around people I am attracted to"
Feeling uncomfortable around someone you are attracted to is a common issue. Even the most socially savvy person can become a little tongue-tied when faced with the man or woman of their dreams.
Feeling uncomfortable and shy around someone you like comes from how important you feel your interaction is. We are comfortable around close friends partly because we know that we will have many more interactions with them. A single awkward moment isn't very important because we trust that there will be many more opportunities to do well.
If you're feeling awkward around someone you are attracted to, here are a few tips that might help
Remember that they don't know what you are thinking and feeling. They are much less likely to notice your discomfort than you think.[13]
Try to change your mindset about attraction. Rather than seeing each event as an opportunity to impress them, try to think of it as a chance to let them get to know you.
Work on building friendship and trust, rather than focusing too hard on your romantic feelings. These are the foundations of any good relationship. Here's our advice on how to make close friends.
Building a friendship can also allow you to make more opportunities to spend time with the person you are attracted to. This can reduce your nervousness by reducing the importance of any one conversation.
"I am uncomfortable going out because of male attention"
People who receive unwanted sexual attention can find it difficult to have the problem taken seriously. Friends may see it as a 'humble brag' and male friends will often not understand just how uncomfortable it can make you.
Unwanted sexual attention is a personal safety concern as well as emotionally difficult. You may also feel a sense of unfairness because you shouldn't have to develop strategies to deal with harassment.
Socializing with a group of supportive friends who understand your discomfort can make a huge difference to how you feel.
"I am uncomfortable around groups"
Group environments can cause a lot more anxiety than conversations with just one other person. You have to divide your attention between a variety of different people. It can be hard to feel included. You also spend more time listening, during which your anxieties can start to intrude.
Try to focus on the topic of conversation, rather than any negative self-talk. This will help you to look and feel engaged. We have an article of great tips for how to join in a group conversation.
If you have struggled to take part in the conversation in a large group, try talking about the same topic to one or two of the same people later. This can give you time to gather your thoughts and develop your opinion. It also helps others to realize that you are interested and interesting. If you do this frequently, they might start to ask your opinion in larger groups as well.
"I am uncomfortable in a one-on-one conversation"
While some people can find it difficult to take part in group social activities, others struggle in more intimate conversations. A one-on-one conversation can put more pressure on you than a group conversation. Here's some advice to feel more comfortable:
Remind yourself that it's not only your responsibility to move the conversation forward. The other person likely worries as much about what to say as you do.
If a conversation topic dies out, go back to a previous subject. "By the way, how was your work trip?"
Do an activity together that you can focus on. This could be watching a movie, playing a game, or simply taking a walk.
If you get too focused on coming up with new topics, show interest in the other person instead and ask them sincere questions to get to know them or learn more about what they talk about.
Every time you catch yourself worrying about what the other person might think of you, move your attention to your surroundings or the ongoing topic.
Change the way you think about silence in a conversation. It's not awkward if you don't make it awkward. In fact, it can be a sign of a good friendship.
"I feel uncomfortable around my parents and my family"
It can be difficult to explain to people why you feel uncomfortable around your family. There are many reasons that you struggle to relax around your family, and these tips might be able to help.
Families may not adjust as you grow up
Sometimes, your family treats you the same way they did when you were a child or teenager. This can be frustrating for both sides. You want to be recognized for who you are now. From your parents' perspective, they haven't changed anything. This makes it hard for them to understand why their behavior is a problem.
To build a mutually-respectful adult relationship with your family, be alert for times that you fall into patterns you learned in childhood. Rather than saying "Mom! I told you not to go through my things", try saying "I understand that you're just trying to help, but I'd rather you didn't go through my bags. If you need something, please just ask".
It can be difficult to set boundaries, especially with our parents, but being firm can help them to realize that they're not treating you appropriately.
There is a power imbalance within families
There are many unspoken power imbalances and expectations in families. We learn from an early age that there are firm restrictions on our behavior around certain family members.
These restrictions are often not shared equally around the family, with older generations or favorites being allowed to break the rules more than others.
Challenging power imbalances within a family can be difficult. This is because
You may have strong emotional links to your family and don't want to upset people
The power imbalances have a long history and others may see them as normal or inevitable
There is a cultural expectation that at least some power imbalance is required between children and parents
Many of the power imbalances are not acknowledged and others may refuse to accept that they exist
Family members know how to 'push your buttons' to make things difficult for you when you're trying to change things
It's important to remember that the only thing you have control over in this situation is yourself. You can't change how others treat you, but you can change how you react.
If you feel uncomfortable due to someone in your family trying to control or limit your behavior, try this three-step process
Stop. If you respond instinctively, you will follow the same patterns that you normally do, with the same result. Take a moment to have a deep breath and assess the situation.
Consider how you would react if someone who was not a family member tried to do the same thing. Thinking about how you would respond to a friend or colleague can provide some clarity and perspective.
Make a decision about what to do next. For me, this is a decision between whether I am going to politely leave the situation, respond as I would if a friend had said it or (rarely) accept the situation to keep the peace. Recognizing that this is a choice can help you to feel in control, even if you decide to allow things to continue.
Feeling left out within your family
With idealized views of the family being so common in our society, feeling like the 'black sheep' of your family can be incredibly isolating.
This feeling is really common when you come back from college, but many people feel that they've been the odd one out as long as they can remember.
If you're in this situation, know that you're not alone. Remember that you can love and respect someone without agreeing with them very often. You can also expect your family to love and respect you when they disagree with you.
Rather than talking about what they do wrong, talk about how you feel.
Don't say "You're always complaining". Doing so might trigger an argument: "I'm not always complaining!".
Rather, say "When you bring this issue up, I get anxious because I feel like I'm not enough".
Or, "I know we're only talking, but I'm feeling pretty isolated and hurt right now. Can we just have a hug and then go and do something fun?"
Studies find that you're more likely to get your point across in an argument if you share how you feel rather than talking about what the other person is doing wrong.[14]
The key thing here is to be honest about how you're feeling and to tell people what would make you feel better.
"I never feel like going out"
Socializing can be stressful, especially if you tend to feel awkward around other people. The trouble is that avoiding socializing because you feel uncomfortable takes away a lot of your opportunities to learn new social skills.
Rather than trying to force yourself to go out and meet people, try some of the tips in our article on how to enjoy socializing.
"I feel uncomfortable around people at work"
Feeling uncomfortable around the people you work with is not surprising. You have little or no choice in who you are working with and there are a variety of power imbalances and competing agendas to consider.
One of the biggest problems for people who feel uncomfortable around the people they work with is Imposter Syndrome, which affects around 70% of people.[15] Imposter syndrome is the feeling that you are less intelligent than you appear and the worry that you are going to be 'found out'.
When you are suffering from imposter syndrome, you are usually exaggerating everyone else's abilities and ignoring your own. It can be incredibly difficult to snap out of this mindset, as you are biasing the evidence against yourself.
Imposter syndrome will usually fade away as you become more experienced and confident in your role. In the meantime, discussing your feelings with someone you respect can really help you to identify areas where you're being overly harsh on yourself. A trusted friend from a previous job might be an ideal person to talk to, as they know how you work and are familiar with your industry.
"My ADHD makes me feel uncomfortable around people"
People with ADHD are often more sensitive to criticism[16] and can have trouble maintaining friendships.[17] This can mean that you feel uncomfortable and awkward around others, whether strangers or friends and family.
If you have ADHD you may find it difficult to remember important facts about your friends or arbitrary social rules. You may not prioritize spending time with people you care about and you might often interrupt during conversations.
If you already have close friends and family, try explaining to them how criticism makes you feel. Explain that you still want them to tell you when you do something that others find annoying, but ask them to be kind in how they tell you. Knowing that they're trying to help you can make criticism easier to hear.
Try to pay attention during conversations. To help you focus, consider paraphrasing what someone has just told you back to them. Use a phrase such as "So, what you're saying is…?". This allows them to know that you're listening to them, to correct any misunderstandings and saying things aloud can help you to remember them.