I know this guy back in Sweden who's very confident. He talks with a loud voice and has no problem taking up space.
Well, let me rephrase that: His problem is that he takes up too much space.
You see, he always has to be the center of attention. If he's not, he doesn't enjoy himself.
He has great self-confidence. In other words, he believes in his own social ability. He can tell stories that catches everyone's attention and he knows that he can make everyone laugh.
What he doesn't have is self-esteem. (I'm not trying to play hobby psychologist here – he's going to a therapist and these are his own words.)
So what's the difference between the two?
Self-confidence is how much you believe in your ability to do something. (For example, taking the center stage in a social setting.)
Self-esteem is what value you put on yourself. (How high you think that your self-worth is.)
That guy I know needs to constantly get the approval of others to feel self-worth.
He's great at getting to know new people. He's great with girls. He's fun at parties. But – he's terrible at long-term relationships because people tire of him.
What happens if you instead have HIGH self-esteem but LOW social self-confidence?
This person is probably afraid to take the center stage and take initiatives. But they don't need to continuously feed their egos. This makes them more pleasant to be with – generally speaking.
But there are exceptions.
New studies show that more isn't better when it comes to self-esteem.1 You want to have a decent self-esteem, but not a sky-high one. A sky-high self-esteem makes us unpleasant to be around and hard to relate to. For example, narcissists have a very high self-esteem, they see themselves as perfect.
Assuming you have a healthy dose of self-esteem, you're more likely to have happy long-term relationships because you're able to focus on what others need, too. (You're not stuck constantly trying to feed your starving ego.)
Many methods we hear about to improve self-esteem doesn't actually work. Most affirmations, for example, even make people with low self-esteem feel worse about themselves.2
But, how do you actually boost your self-esteem?
SocialSelf's behavioral scientist Viktor Sander has written an in-depth article on ways to increase your self-esteem that actually work.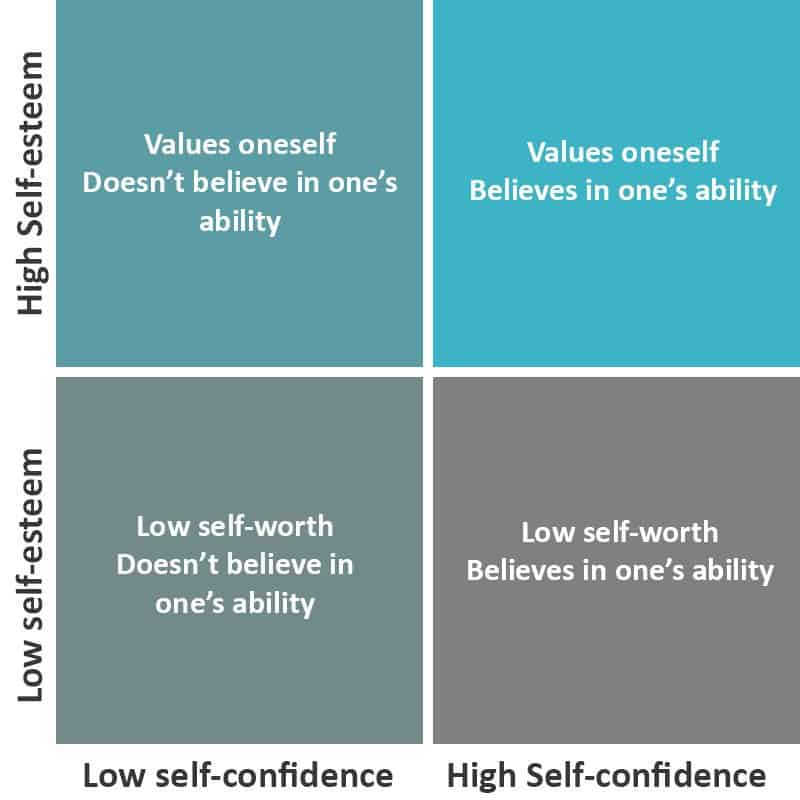 Most people are actually somewhere in the middle, but it's the most helpful to look at the extremes.
Where are you in the matrix above? I'd love to hear your thoughts in the comments!