Having remarkable friends makes life that much more meaningful. Good friends enrich our lives by being there for us when we need them most. Whether it's to lend a helping hand, share a kind word, or be a pillar of emotional strength, true friends always prove reliable.
Since true friends make such a positive difference to our lives, they deserve our gratitude and unending thanks. But it's not always easy to put our sentiments into words—to know how to say thank you to a friend. That's exactly why this article was written.
In this article, you will find example thank you messages and letters to send friends in different situations. You'll also learn how to customize thank you messages to friends to make them more special.
Sections
Thank you messages to send friends in different situations
Friends support one another in many different ways. There's never a shortage of things to be thankful for when it comes to quality friendships.
Below are some examples of how to say thank you to a friend in different scenarios:
For a friend who has helped you in a practical way
Sometimes friends step in when you're at your wits' end and desperately need someone to do you a favor. Some examples include helping with babysitting, house-sitting, moving houses, and running errands.
When thanking a friend who has gone out of their way to help you, let them know how their kindness lightened your load. You can also offer to return the favor.
Example thank you messages for practical support:
Katy, I wanted to express my sincere gratitude to you for bringing me dinner and collecting my medication while I was ill. It was such a relief that I could stay in bed when I was feeling so weak. Thank you so much.
Thank you so much for looking after the kids last night. George and I hadn't had an evening to ourselves in months. It felt great to finally be able to relax! We'd be happy to return the favor and sit Braidy for you.
For a friend who has supported you emotionally
Friends who have been there for you through thick and thin deserve a heartfelt thank you. Not everyone has friends like these. If you have friends who consistently support you through difficult times and who celebrate with you when you're doing well, you have a lot to be grateful for.
You can let these friends know just how much you appreciate them by sending them an emotional thank you message.
Example thank you messages for emotional support:
Words can't express how much our friendship means to me. I feel so fortunate to have a friend like you in my life. You've always been there for me, no matter what. Thank you for your unfailing support.
You have been such a pillar of strength for me during this difficult time. I don't know how I would have pulled through these last few months without your support. From the bottom of my heart, I want to say thank you for all that you have done for me.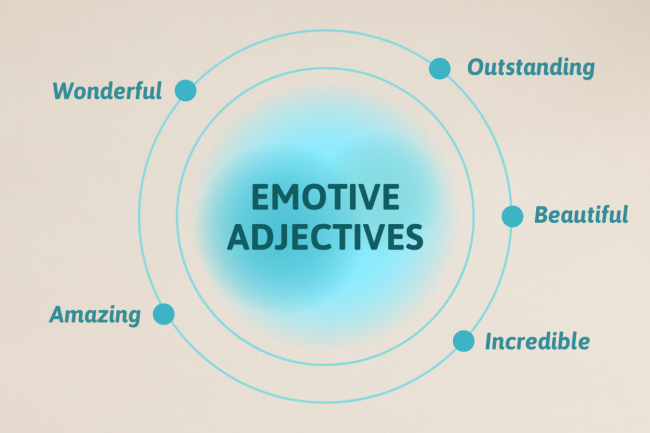 For a best friend to show your appreciation
Best friends deserve the most praise since they are the ones we value and admire above all. Birthdays and the start of a new year offer great opportunities to send some words of appreciation to a best friend.
When sending a thank you message to your best friend, write about what makes them unique. Why are they your best friend?
Example thank you messages for best friends:
Happy birthday, Jess! On this special day, I remember all of the things that make you so wonderful. You are such a thoughtful and caring person. You always know exactly what to do or say to make me smile when I'm feeling down. I admire your positivity and your ability to laugh your way through life's challenges. Thank you for being my best friend.
Happy New Year, Mark! Having a best friend like you makes life that much better. Thanks for showing me what it means to enjoy life to the fullest and for being the best travel companion. I'm so glad that we have the same travel bucket list, and I can't wait to discover more of Asia with you this year.
If you don't have a BFF but would like to, you might like this article on how to get a best friend.
For a friend who bought you a gift
Sending thoughtful thank you notes or cards to friends when birthday, Christmas, or wedding gifts had been received was once the norm. These days, it seems that people have moved on from this tradition. Sending personalized notes through the mail requires a lot of effort compared to sending generic thank you texts or emails in bulk. Mode of delivery aside, your friends would appreciate a sincere thank you for their generosity.
When it comes to sending a thank you message to your friends for a gift they gave you, tell them what you like about the gift. A creative way to say thank you for their gift (if you want to go the extra mile) could be to send a picture of the gift being used along with your message.
Example thank you messages for gifts:
Dear Jenny, Thank you so much for the beautiful scarf. I've worn it just about every day on our trip. I love the color, and the design is so unique. You know me so well!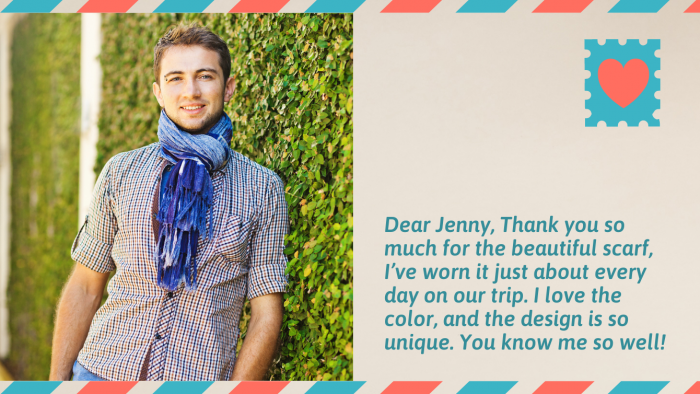 Dear Mike, Thank you for your donation to our honeymoon fund. As you can see, we are enjoying some Margaritas in paradise—on you! We can't wait to show you the rest of our pictures once we get back.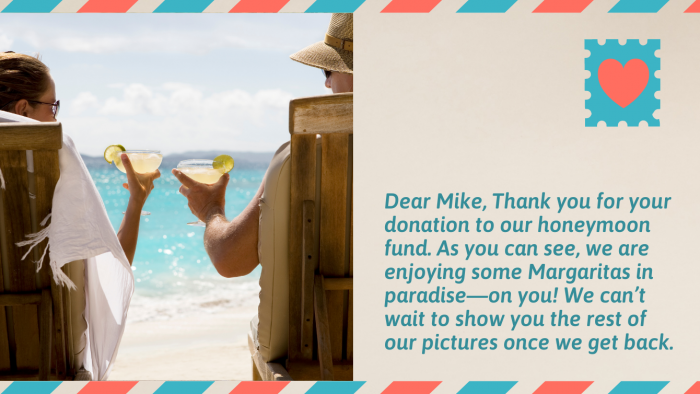 For a friend with a good sense of humor
If you share the same sense of humor as your friend, sending a funny thank you message could really make their day. These kinds of thank you messages work best when you want to thank your friend for something relatively small that deserves appreciation nonetheless.
Example funny thank you messages:
I would say you're the greatest, but you already think I'm the greatest. On a serious note — thank you!
Since you're always doing wonderful things and I'm always sending you thank-you cards, I finally got organized and bought a box of 500 in bulk. No pressure.
If you knew how awesome you were, you'd be way more conceited. Thank goodness you're not too bright. Just kidding! Thank you.
If you're going to send any of these messages to a friend, it should be a friend you know very well. You should know them well enough to be sure that they would not be offended by this type of humor.
For a Christian friend
If you and your friend share the same Christian faith, they may appreciate a religious-inspired thank you message.
Example religious thank you messages:
I asked God to place a special friend in my life, and He gave me you. Now you've become one of my greatest blessings, and I thank God every day for you.
Thank you for being there for me in my darkest hour. You have a heart that reflects the love and compassion of Jesus.
Another idea could be to use inspirational quotes about gratitude from scripture and then expand on them. Like this:
1 Chronicles 16:34 says: "Give thanks to the Lord for He is good. His love endures forever." I am so thankful to our God for giving me a friend like you. What an amazing testimony to His goodness.
1 Corinthians 9:11 says: "You will be enriched in every way so that you can be generous on every occasion, and through us, your generosity will result in thanksgiving to God." I thank God for giving me such a kind-hearted and generous friend. Thank you for the book. It was just what I needed.
Customizing thank you messages
If you want to send a thank you message to your friend that they will cherish, it will require a bit of effort. Although time-consuming, customizing your message will make it so much more meaningful to the friend reading it.
Here are 4 tips on how to write the perfect, customized thank you message for a friend:
1. Make it personal
Your friend will feel much more appreciated if you acknowledge how they helped you and the impact their help really had. Don't just say thank you, be more specific.
Don't say: "Thanks for helping me this weekend,"
Instead, say: "Thank you so much for helping me pack up my apartment. I don't know how I would have done it alone. It would have easily taken me double the time."
2. Include a picture, quote, or meme
If you want to be a bit more creative and go that extra mile, send a picture, relevant quote, or meme with your message.
Say your friend bought you a clock for your new office. When you send them a thank you message, send them a picture of the clock hanging up in your office, too. Another idea could be to send them a friendship quote that expresses how you feel and which you can expand on.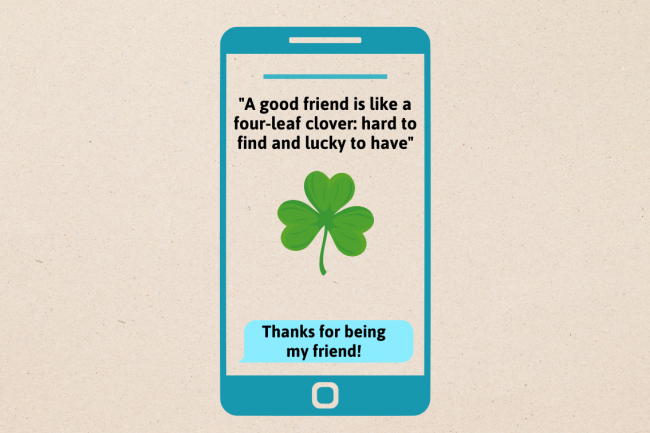 3. Make it about them
You can make a thank-you message more sincere by highlighting your friend's personal qualities. Let them know what it is that you admire about them.
Say they got you a spa voucher after a bad break-up. What does this gesture say about them? Maybe it says that they are thoughtful and generous—two admirable qualities that you could mention in your message.
4. Include a gift card
Sending a tangible token of appreciation in the form of a small gift or voucher (if you have the means) is another great way to customize a thank-you message. If a friend has gone out of their way to support you, it's natural to want to give back.
Don't give a generic voucher or gift. Put some thought into it! Say your friend loves flowers. Don't just get them any flowers—get them their favorite type.
Here are some other ideas:
If your friend loves books, get them a bookstore voucher.
If your friend loves shopping on Amazon, get them an Amazon voucher.
If they love brownies, get them a voucher for a gourmet brownie store.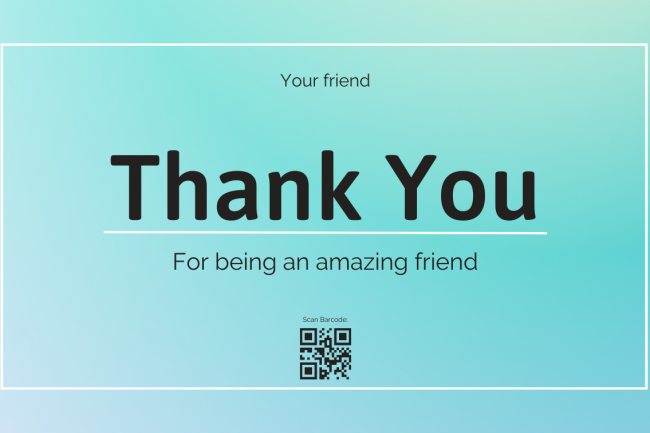 Common questions
Is it weird to say thank you for being a friend?
Research suggests that showing appreciation towards another person promotes social bonding.[1] Thanking your friend for the positive impact they have had on your life can be considered part of a healthy friendship.
How do you say thank you in a unique way?
If you want to be a bit different, go old-school. Send your friend a hand-written letter via regular mail. If you have even more time on your hands, create a scrapbook of memories that expresses your gratitude for many years of friendship.
If you decide to go that way, you might find our article on how to write a letter to a friend inspiring.