Online therapy has become a widespread alternative to traditional in-person treatment. But with so many services out there, which one should you pick?
In this guide, we'll focus on two of the most popular online therapy platforms: BetterHelp and Talkspace. We'll also look at a few other online therapy services you might want to consider.
Sections
What is online therapy?
When you work with an online therapist, you communicate via video calls, phone calls, messages, and live text chat. For many clients, it can substitute for face-to-face therapy. You can use online therapy on a long or short-term basis.
There are many advantages of online therapy, including:
Convenience. You can schedule therapy sessions to suit your schedule. You can talk to your therapist anywhere, as long as you have an internet connection and a suitable device.
Lower costs. In general, online therapy platforms are cheaper than traditional therapy.
Greater privacy. Some sites don't ask for your real name; you can use a nickname instead. However, you will probably be asked to provide emergency contact information.
Access to extra services. Along with talking therapy, some platforms also offer other forms of help. You may be able to access virtual seminars, worksheets, and psychiatric consultations.
The opportunity to reread communication with your therapist. Most platforms allow you to store your messages. This can be helpful if you want to review advice or words of encouragement from your therapist.
How effective is online therapy?
Research suggests that online therapy can be just as effective as traditional office-based sessions for treating a variety of mental health problems, including depression and anxiety.[1][2][3]
BetterHelp
Founded in 2013, BetterHelp is one of the most well-established, best-known online therapy providers. The company's mission is to make mental health services more accessible to clients around the world.
What does BetterHelp offer?
BetterHelp offers therapy for individuals, couples, and teens via a secure online platform.
All of the mental health professionals working through BetterHelp are vetted to make sure they are qualified and licensed to practice. They have at least 3 years' professional experience, including 1,000 client hours.
Only 20% of therapists who apply to work on the platform are accepted.
You can schedule live video, phone, or instant chat therapy sessions. It's simple to schedule a meeting; just look at your therapist's calendar and book a slot. Sessions are available weekly. You can also send your therapist a message at any time.
BetterHelp offers extra resources as part of their subscription package. You'll have access to 20 therapist-led interactive group seminars per week, interactive online modules, and worksheets.
Betterhelp's matching process uses algorithms. When you sign up to BetterHelp, you'll be asked a series of questions, including your age and the type of problem you want to address in therapy. BetterHelp will use your answers to match you with a therapist from their directory. If you don't click with your therapist, BetterHelp will find you someone else.
For your privacy, messages between you and your therapist are encrypted. Your therapist will keep everything you tell them confidential. You can also choose to delete messages from your account.
How much does BetterHelp cost?
You'll have to pay between $60 to $90 per week to use BetterHelp. You can cancel your subscription at any time.
What are the drawbacks and limitations of BetterHelp?
The therapists on BetterHelp are not licensed to prescribe medication or diagnose you with a specific mental illness.
BetterHelp's services are not covered by most insurance plans or providers, so you should expect to pay the full price for your therapy.
Who should use BetterHelp?
BetterHelp is a good option if you're looking for online therapy from a reputable provider at a reasonable price. If you'd like to pay for therapy via your insurance plan or want psychiatric services alongside therapy, it probably isn't the best choice for you.
Talkspace
Talkspace is an online therapy platform that launched in 2012. Like BetterHelp, Talkspace provides convenient access to mental health services.
What does Talkspace offer?
Talkspace offers therapy for individuals, couples, and teens. Like BetterHelp, Talkspace lets you communicate with your therapist in a way that suits you, either through written messaging, audio messaging, video calls, or phone calls.
All of the therapists in Talkspace's directory are fully licensed. You can learn more about the therapists and read their bios using Talkspace's "Find a therapist near you" search tool.
When you create an account with Talkspace, you'll be asked questions about the type of problems you're facing, your overall health, your gender, and your age. Talkspace will then match you with several therapists, and you can pick the one that seems right for you. You have the option to change therapists later on.
Along with therapy, Talkspace also offers psychiatric treatment. Generally speaking, therapists, counselors, and social workers can't prescribe medication. But psychiatrists, who are medical doctors who have specialized in treating mental illness, can. This means that you can get a prescription for antidepressants and other common psychiatric medications via Talkspace.
Talkspace has encryption measures in place to protect your privacy. Their therapists are obliged to keep your sessions and messages confidential.
How much does Talkspace cost?
Talkspace accepts insurance from some providers. You can check your eligibility on the Talkspace website.
If you don't have insurance, you'll have to pay between $69 and $169 per week, depending on which services you need.
For example, plans that only include message-based therapy are cheaper than plans that include several live video sessions per month. You will also need to pay extra fees if you'd like a psychiatric evaluation or medication management services.
What are the drawbacks and limitations of Talkspace?
Talkspace is more expensive than other well-known providers, including BetterHelp.
Talkspace only accepts payment via credit or debit card. This may be a drawback if you prefer to use PayPal.
Who should use Talkspace?
If you want to get a psychiatric evaluation or advice about medication, Talkspace could be a great choice.
Other online therapy services
BetterHelp and Talkspace both match you with therapists based on your needs and preferences. For example, you can request a therapist of a specific gender. You can also request a therapist who is especially experienced in treating specific mental health problems.
Advertisement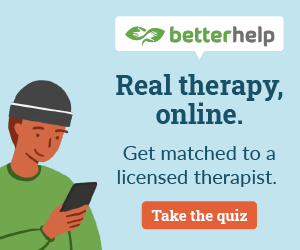 Alternatively, you might prefer a service that is aimed at specific groups or needs. BetterHelp has several subsidiary platforms that are tailored to various groups of people. They charge around $60 to $90 per week. Here are a few you might want to consider:
1. ReGain
ReGain offers both individual and couples therapy. If you and your partner want couples therapy, you can share a joint account. All written communication is visible to both partners and the therapist. You can also choose to schedule a live individual session if you'd rather talk to your therapist when your partner isn't present.
You and your partner don't have to use the same device during your therapy sessions, so you can have joint therapy even if you're far apart.
2. Faithful
If you are a Christian and would like to work with a therapist who shares your faith and religious values, Faithful may suit you. Faithful's therapists, who are licensed and vetted, are practicing Christians.
The company's website emphasizes that Faithful is a therapy service. It shouldn't be a replacement for direct spiritual guidance from a pastor or other religious leader.
3. Pride Counseling
Pride Counseling was created in 2017 with the LGBTQ community in mind. All of the therapists on Pride Counseling specialize in working with LGBTQ clients. The platform is an inclusive space for all sexual orientations and genders. (Please note, however, that most of the therapists do not provide recommendation letters for HRT treatment.)
4. Teen Counseling
As its name implies, Teen Counseling is a therapy service for young people aged 13-19. Parents and teens sign up together. They are then matched with a therapist who provides them with confidential, separate therapy sessions. Teen Counseling can help with common problems that affect young people, including bullying, depression, anxiety, and low self-esteem.