Having a best friend means that you have someone to make memories with—all around the globe.
If you're on the hunt for things to do and places to go to with your bestie, then check out the following list of 101 bucket list ideas for inspiration.
Sections
Summer bucket list ideas
Make sure you don't spend a single day bored at home this summer. Start putting together your outdoor bucket list for the summer to help you and your best friend get the most out of your holiday.
1. Try horseback riding
Horseback riding is a marvelous way to make memories with someone you love. Gallop down a beach, or mosey your way along a tranquil trail in the forest.
2. Go snorkeling
If you've never tried snorkeling before, now is your chance. Pick up some gear and do some underwater exploring with your BFF.
3. Ride a tandem bike
Kick a nice bike ride with your best friend up a notch by renting a tandem for the two of you to ride together. It's an entertaining way to make a simple bike adventure extra memorable.
4. Go to a summer music festival
Dance the day or night away at an outdoor music festival with your best friend. Have fun before the festival preparing gorgeous costumes together.
5. Skinnydip somewhere beautiful
A wonderful way to cool off while taking a hike with your bestie is to strip down and take a dip in a beautiful body of water. It's not every day we get to be nude in nature, so make sure to take full advantage.
6. Get your friends together to all go on an 'inflatable island'
If you want to make your next beach day with your BFF extra memorable, invite a few friends aboard an 'inflatable island'.
7. Go skydiving
There are very few things that are more epic than literally jumping out of a plane with your best friend. Make a once in a lifetime memory by going skydiving with your bestie.
8. Walk in the rain
A refreshing walk in the rain is always a good idea. Make the most out of a rainy summer day by going for a stroll in a thunderstorm with your best friend, and don't be afraid of getting wet.
9. Ride a slingshot amusement ride
This suggestion isn't for the faint of heart. If you have a best friend that is as much of an adrenaline junkie as you, try riding the slingshot at a local carnival together.
10. Pick some delicious fruit
All the fresh, local fruit is one of the best things about summer. Take full advantage of the season by heading to a local farm and spending an afternoon picking fresh fruit with your best friend.
11. Ride a hot air balloon
This suggestion should be on everyone's bucket list. See the world from a bird's eye view by taking a ride in a hot air balloon with your best friend.
12. Do an outdoor photoshoot
We're always taking photos of our adventures, but if you want to take your photos from good to great, why not plan an outdoor photoshoot with your best friend? Capture a moment with you and your bestie where the two of you are looking your best, and the two of you can reminisce when you're old and gray.
13. Go stargazing
If you're looking to spend a peaceful evening with your bestie, pack a blanket and lay out under the stars to see if you can catch a shooting star or two. Check out this guide if you want to know more about the constellations you'll be looking up at.

14. Watch a sunrise
Although you'll have to set an alarm to make sure you're up for an early morning sunrise, it will definitely be worth it. Make a morning with your best friend extra special by waking up early and heading to a beautiful spot to watch the sun come up.
15. Have an outdoor picnic
Switch up the usual restaurant meet-up and instead pack a delicious picnic for you and your bestie to feast on in a beautiful, sunny spot.
16. Visit a national park
Regardless of where in the world you live, chances are there is a remarkable national park near you that is worth taking a trip to explore with your bestie.
17. Host a summer theme party
Get all of your best friends together to revel in an evening of connecting and celebrating. Make your party extra fun by choosing a summer-related theme, and have everyone come in costume.
18. Try canoeing or kayaking
Canoeing and kayaking are fine ways to get outside while also getting in shape. They're a good workout for your core and upper body, and they are a perfect opportunity for you and your best friend to bond while also connecting with nature.
19. Enjoy slip n' sliding
Throwback to a summer favorite from when you were a kid. Set up an adult slip and slide so you and your best friends can play while keeping cool.
20. Go whitewater rafting
Whether you're in it for the gorgeous scenery or the thrill of launching yourself down a small waterfall, water rafting has something for everyone. Enjoy a unique adventure with your bestie.
This list of fun things to do with friends in the summer might help you to get some more ideas for your summer bucket list.
Winter bucket list ideas
Add some of the following activities to your winter checklist of must-have adventures for you and your best friend.
1. Visit natural hot springs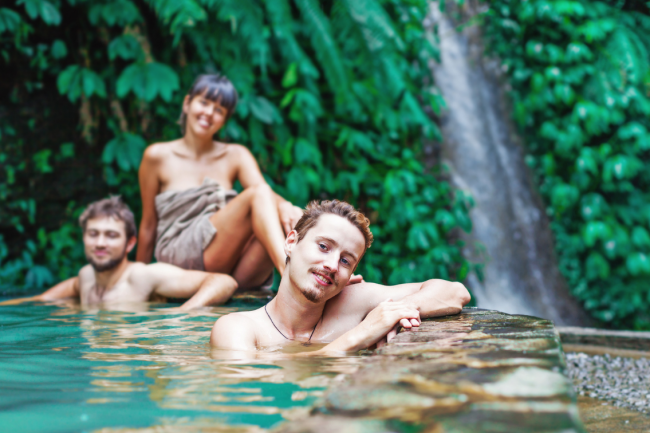 Time outside that isn't spent freezing your butt off is hard to have when the world is covered in snow and ice. Connect with nature while staying warm by visiting a natural, outdoor hot spring with your bestie.
2. See the northern lights
Northern lights are a must-see for everyone. Crossing this off your bucket list might involve you taking a trip to Canada, but it will definitely be worth it. Make sure to catch this natural wonder with your best friend by your side.
3. Take a snowshoe hike
Make a regular walk more exciting by renting a pair of snowshoes with your best friend. Live it up one afternoon laughing together while you trip over your own feet.
4. Have a snowball fight
Unleash your inner child by challenging your best friend to a snowball fight.
5. Rent an Airbnb with a hot tub
Plan a memorable winter escape with you and your best friends. Renting an Airbnb outside of the city is an enjoyable way to escape the hustle and bustle. It's also a lot easier to like the cold when you're soaking in the hot tub of your holiday rental.
6. Escape the cold
If you're not a cold-weather person, the best way for you to make the most of winter might be for you to escape it! Head somewhere warm with your BFF and spend your days on the beach instead of in the snow.
7. Ride a dog sled
Riding a sled being pulled by a team of dogs might be the most iconic winter activity that you can partake in. If you're looking to enjoy a once-in-a-lifetime vacation with your best friend, check out this list of destination ideas to make your winter dreams come true.
8. Build an igloo
If you want to embrace your inner Canadian, you and your best friend might want to try building an igloo for the two of you to hang out in.
9. Stay in a snow hotel
Although this isn't everyone's idea of a fun winter getaway, a stay in an ice hotel is a perfect way to get you in the winter spirit. Experience a totally different kind of holiday by staying in a snow hotel.
10. Do a polar plunge
Polar plunges are often done to raise money for a charity. But regardless of whether or not you will be sacrificing your body to raise money for a good cause, plunging yourself into freezing water should make for a memorable experience with your best friend.
11. Learn to ski or snowboard
If you want to learn to love winter, then you might want to try taking up a winter sport. Learn to snowboard or ski with your best friend, and make the most of the winter together.
12. Go to a hockey game
When you think of winter sports, what is the first thing that comes to mind? Bring out your inner Canadian by going to a hockey game with your best friend.
13. Try out ice fishing
If you don't want to spend winter stuck inside waiting for spring, then you'll have to broaden your winter sports horizons. Ice fishing is a stunning way to do so. Get your best friends together to try and catch fish and spend some time out of the house.
14. Go downhill sledding
Downhill sledding is a fun way to spend a snowy day with your friends. Bring hot drinks, sandwiches, and warm clothes to enjoy a picnic once you're all exhausted from sledding down the snowy hills.
15. Go snowmobiling
Snowmobiling is an enjoyable way to get outside and explore the wilderness that you couldn't normally get to on foot. Check out breathtaking views by renting a snowmobile with your bestie.
16. Make an ice sculpture
This suggestion is for anyone who is really dedicated to learning a new skill and making the most of their winter holiday. Check out this amazing video for inspiration.
You might also find great ideas for your winter bucket list in this article on fun things to do with friends in winter.
Travel bucket list ideas
If you're looking for the ultimate bucket list ideas, you're in the right place. Take you and your lifetime best friend on an unforgettable trip around the globe, visiting the following travel destinations.
1. Visit the pyramids
The Pyramids of Giza are one of the most stunning and unbelievable wonders on the planet. Of all the places to go, this should definitely be at the top of the list. Here are some travel tips to make this trip with your bestie as effortless as possible.
2. Volunteer in Africa
If you and your bestie both love animals, volunteering at an animal sanctuary in Africa would be a once-in-a-lifetime opportunity to experience together.
3. Trek to Machu Picchu

This is a great suggestion for you and your best friend if the two of you are avid hikers. Experience an incredible trek through the jungle that ends with you being able to see one of the most beautiful spots on the planet.
4. See the last orangutans
Orangutans are endangered animals that only exist in two isolated places on the planet. If you and your best friend want to see this incredible species while you still have the chance, here is a list of the places that are still home to these amazing creatures.
5. Visit the Maldives
Chances are if you've seen a photo of perfectly blue water and breathtaking beaches, you were looking at a photo of the Maldives. They are a must-see for any beach lover.
6. Scuba dive at the Great Barrier Reef
There is an incredible world that exists just below the surface of the ocean that not a lot of us are lucky enough to glimpse. The Great Barrier Reef located off the coast of Queensland, Australia is one of the 7 wonders of the world. Visiting this iconic spot is something you and your best friend should aim to do before you die.
7. Soak in hot springs in Iceland
Iceland is best known for its amazing hot springs and gorgeous scenery. The Blue Lagoon hot spring is probably the most well-known spring in Iceland, and for a good reason. The milky blue water looks like it's straight out of a movie, and is a must-see for you and your best friend.
8. Eat pasta in Italy
When most people think of pasta, they think of Italy. Italy is renowned for its delicious pasta varieties, and also happens to be an incredible country to explore while you're not out for a dinner date with your bestie.
9. Sleep between two volcanoes on Ometepe Island
Ometepe island is the only island in the world that is home to not one, but two volcanoes. It's also located in the middle of a freshwater lake instead of the ocean. This amazing island should definitely be at the top of you and your bestie's travel bucket list.
10. Visit a redwood forest
Redwood forests are home to some of the oldest and biggest trees on the planet, and are the perfect spot for any nature lover to plan a trip to. Explore these amazing forests with your best friend by your side.
11. Adventure in Antarctica
A goal for a lot of people is to visit all 7 of the continents, and you can't do that without making the lengthy trip to Antarctica. While you're there, make sure that you and your best friend get a photo with the legendary Emperor penguins.
12. Walk the Great Wall of China
The Great Wall of China is the only man-made wonder on Earth that can be seen from space. Get an amazing glimpse into the history of our planet while taking a once-in-a-lifetime trip with your best friend.
13. Experience the Amazon rainforest
The Amazon rainforest is home to some of the most diverse species on Earth. Choosing to explore this amazing natural wonder won't be as easy as a stay at a 5-star hotel, but will offer a different kind of fun. Here is a guide to help you plan your trip.
14. Explore the Grand Canyon
It's called the Grand Canyon for a good reason. The park is literally bigger than some of the states in America. Full of amazing views and plenty of hidden caves, you and your best friend should definitely make sure to check out this natural wonder.
15. Go on a safari adventure
Our planet is home to all sorts of amazing wildlife. Africa happens to host some of the most unique animals on the planet, including giraffes, lions, and rhinos. If you and your best friend want to take a trip that you're sure to remember forever, add a safari in Africa to your must-see list.
16. See bears in British Columbia, Canada
Canada is a huge country, so you can't expect to see all of it in one go. But if you're planning on taking a trip there exploring the vast mountain ranges of British Columbia is a fantastic place to start. Bask in the breathtaking views, and if you're lucky you might even happen across a bear – hopefully from the safety of your vehicle.
Unique bucket list ideas
Check out the following list for bucket list ideas that you won't find anywhere else.
1. Ride a camel
Although riding a camel isn't a particularly comfortable way to travel, it is an iconic one. Make all your desert dreams come true with a camel ride through the sand.
2. Do an Ironman
If you and your best friend are up for the ultimate challenge, try doing an ironman race together. Even finishing a race like this is an incredible accomplishment, and you can bond while preparing for this event together.
3. Start a podcast
If you've been waiting for the perfect co-host to start a podcast with, then why not collaborate with your best friend? With apps like Anchor podcasts have never been easier to make, and they're really enjoyable to put together.
4. Travel in a van

Living in a van has been increasingly popular in recent years. It is a perfect way to explore a country, and if you have an online income there is no reason for your adventure to come to an end. Have the trip of a lifetime with your best friend while living the #vanlife.
6. Go swimming in bioluminescent plankton
Swimming in bioluminescent plankton will make you feel like you're swimming in a dream. It's an experience that all of us should have at least once. Here are the best spots for you and your bestie to make this dream a reality.
7. Try windsurfing
Already a fan of surfing? Then windsurfing could be an awesome way for you to kick things up a notch. Get ready for a wild day on the water with your best friend.
8. Hike one of the tallest mountains on the planet
If you and your best friend are feeling up for a challenge, hiking one of the tallest mountains on the planet might be the perfect undertaking for you. This bucket list item would require a lot of preparation and planning, but would be incredible to accomplish alongside your best friend.
9. Swim with sharks
This suggestion is not for the faint of heart. Having the opportunity to get up close and personal with these amazing and terrifying creatures would definitely be a noteworthy experience.
10. Visit Cenote Calavera in Mexico
Cenote Calavera is a swimming hole that was actually formed by a giant sinkhole. Upon first glance, it might seem like there's not much to see, but when you get closer you'll realize that there is an entire oasis waiting below the surface. Spend a day diving into this beautiful blue water with your best friend.
11. Bathe an elephant
Elephants are absolutely amazing creatures. If you've always wanted to spend time with these gentle giants, skip the elephant ride and instead opt to connect in a more humane way by giving them a bath.
Crazy and exciting bucket list ideas
Add some cool and spontaneous ideas to your adult bucket list for you and your bestie. Have fun crossing these wild ideas off your list.
1. Quit your job
Quitting your job alongside your best friend would be quite the way to solidify your best friendship for life. The two of you can either opt for better jobs or even test the waters of business ownership. Either that or just take a sabbatical to travel the world together.
2. Move to a new country
A lot of us dream of living in another country, but few of us are brave enough to actually do it. Having your best friend to make the move with might be just the thing you need to feel confident enough to take the leap.
3. Take a last-minute trip
This is the ultimate way to embrace spontaneity. Follow your heart wherever in the world that it wants to take you, and book a last-minute trip with your best friend. Bonus points if you don't book a return ticket.
4. Tour in a submarine
Taking a submarine tour is a unique way to explore the amazing world that exists below the surface of the ocean without having to get wet or rent expensive gear.
5. Bike to a neighboring city

Make your trip to a neighboring city a little more exciting by changing the mode of transportation. Challenge your endurance alongside your best friend by biking to a town near you.
6. Try tandem base jumping
Simply put, base jumping involves people jumping from high places – with a parachute of course. Base jumping used to be inaccessible to most, but now anyone can try out this amazing experience, including you and your best friend.
7. Walk on fire
Walking on fire has many benefits. It's an experience that could change your life, and would also be pretty cool to do alongside your best friend.
8. Go alligator hunting
No alligators have to be harmed to make this suggestion a reality. Spend an afternoon in the swamps trying to track down these terrifying creatures with your best friend.
Simple bucket list ideas
Not everyone has the budget to travel around the world. Here are some easy and cheap bucket list ideas for you and your best friend to enjoy.
1. Get matching tattoos
While this suggestion might be a little bit cliche, nothing says best friends like matching tattoos.
2. Go to a nude beach
Visiting a nude beach is something that everyone has to do at least once in their lifetime. Embrace the freedom of being completely nude in the great outdoors with your best friend.
3. Start a book club
Starting a book club with your best friend is a marvelous way to enjoy quality time. It will also help the two of you to stay consistent with reading and all the amazing benefits that come from it.
4. Visit a renowned restaurant
Instead of the casual night at your usual spot, get dressed in your Sunday best and head somewhere extra special with your best friend.
5. Do a thrift shop clothing swap
If you want a cheap but hilarious way to have an unforgettable evening, try picking out each other's outfits from a nearby thrift shop. Afterwards, wear the clothes out for a lively night on the town.
6. Make pasta from scratch
Take an evening spent at home cooking with your bestie from basic to outstanding by testing out a recipe for homemade pasta.
7. Do an acro yoga class together
Acroyoga is a two-person practice that combines yoga with acrobatics, as one person lifts and supports the other off the ground. Because it requires both playfulness and mutual trust, acro yoga can strengthen the bond between you and your friend.
8. Have a fire on the beach
Some of the best summer memories can be made by connecting with friends on the beach. And on those chilly winter nights, a fire is a must-have to keep everyone warm and cozy throughout the evening.
9. Go to a farmers' market
A farmers' market is a fine place to buy fresh produce straight from the people that made it. Take a trip to a market near you to stock up on all sorts of delicious fruits and veggies with your bestie.
Christmas bucket list ideas
Here are some things best friends can do together to get in the holiday spirit.
1. Go on a sleigh ride
Snuggle up in a warm blanket with hot chocolate and your best friend while enjoying a horse-drawn carriage ride through the snow.
2. Host a secret Santa or Yankee swap party
Make Christmas with your friends this year extra special. Try hosting either a secret Santa or Yankee swap Christmas party for you and your besties.
3. Go and see the Nutcracker Ballet
If you want to do something out of the ordinary, why not break out your Sunday best and head to the Nutcracker Ballet with your best friend? Marvel what the human body is capable of while getting in the holiday spirit.
4. Take a photo with Santa

Get your Christmas cards ready by taking a classic photo of you and your best friend with Santa Claus.
5. Make a gingerbread house
Add this idea to your at-home bucket list. Spend a day cozy inside with your best friend making gingerbread houses for the two of you to snack on. Here is a list of everything you will need to make this happen.
6. Take a trip to see snow
Nothing says Christmas like snow. If you live in a part of the world that doesn't get snow during the holidays, then taking a trip somewhere snowy with your bff might be just the way to get into the Christmas spirit.
7. Make a snowman
Add a new bestie to your friend group by building a snowman with your bff.
8. Go ice skating
To make your day spent skating with your best friend extra special, pack some hot chocolate and your ice skates and head to a frozen lake or pond. Test out your skating skills with a view.
9. Bake Christmas cookies
Christmas is the perfect excuse to be extra gluttonous. Spend a cozy day inside baking and decorating delicious Christmas cookies. Whether you decide to share with friends, or just keep it all to yourself is up to you.
10. Go Christmas caroling
Test out your singing voice and spread some holiday cheer by going Christmas caroling with your best friend.
11. Make handmade gifts
Let's face it, during the cold winter months there is only so much time that you can spend outside. To make sure that you make the most of your time spent inside, you and your friends can learn a new skill – like knitting – and make homemade gifts for your friends and family.
12. Make homemade hot chocolate
Hot chocolate is a cold-weather classic. If you want to vamp up this delicious treat, you can try making it from scratch by trying this simple and delicious recipe.
13. Cut down your own Christmas tree
Embrace your inner lumberjack by heading out into a forest to chop down your own Christmas tree. Just don't break any laws to make this suggestion happen!
Christmas movie bucket list
Here are some Christmas classics for you to check out if you want to spend a day snuggled up beside your bestie.
Home Alone
The Grinch
Elf
Diehard
The Holiday
Love Actually
A Christmas Story
Family Stone
A Charlie Brown Christmas
Klaus
It's A Wonderful Life
Bucket list ideas for teens
Make the most of your school vacation with the following outdoor and at-home bucket list ideas.
1. Bake and decorate a cake
The internet is full of lots of easy recipes for you to experiment with. Try your hand at baking with your best friend.
2. Make DIY lip balms
This suggestion is great for teenage girls. Skip the line at Sephora by making your own homemade lip balms.
3. Have a movie marathon

Too hot or rainy to spend a day outside? Make a big bowl of popcorn for you and your bestie to eat together while you watch all your favorite movies.
4. Create a YouTube video or a Tik Tok
Creating online content is an easy way for you and your best friend to have fun at home. You'll also be developing a skill that could possibly make you good money in the future.
5. Make homemade bath bombs
If you're looking for a DIY project to do with your best friend, check out this Lush-inspired bath bomb recipe that you can make at home.
6. Go rollerblading
Get in shape while also soaking up some sunshine by going rollerblading with your best friend.
7. Go thrifting
Most teens don't have the biggest budget for a day of shopping with their friends. Visit your local thrift shop to find unique clothing for good prices.
8. Enjoy an at-home spa day
Pick up a few new shades of nail polish and give your best friend a manicure and pedicure in the comfort of your own home.
Common questions
What is a BFF bucket list?
A BFF bucket list is a list of adventures you want to have, places you want to go, and memories that you want to create with your best friend.
Why should you have a best friend bucket list?
Having a best friend bucket list is an excellent way to ensure that you make the most of the time you spend with your bestie. Writing down what you really want to do helps you make the most of your time together.
Shared memories and adventures are great ways to keep your friendship strong and alive.